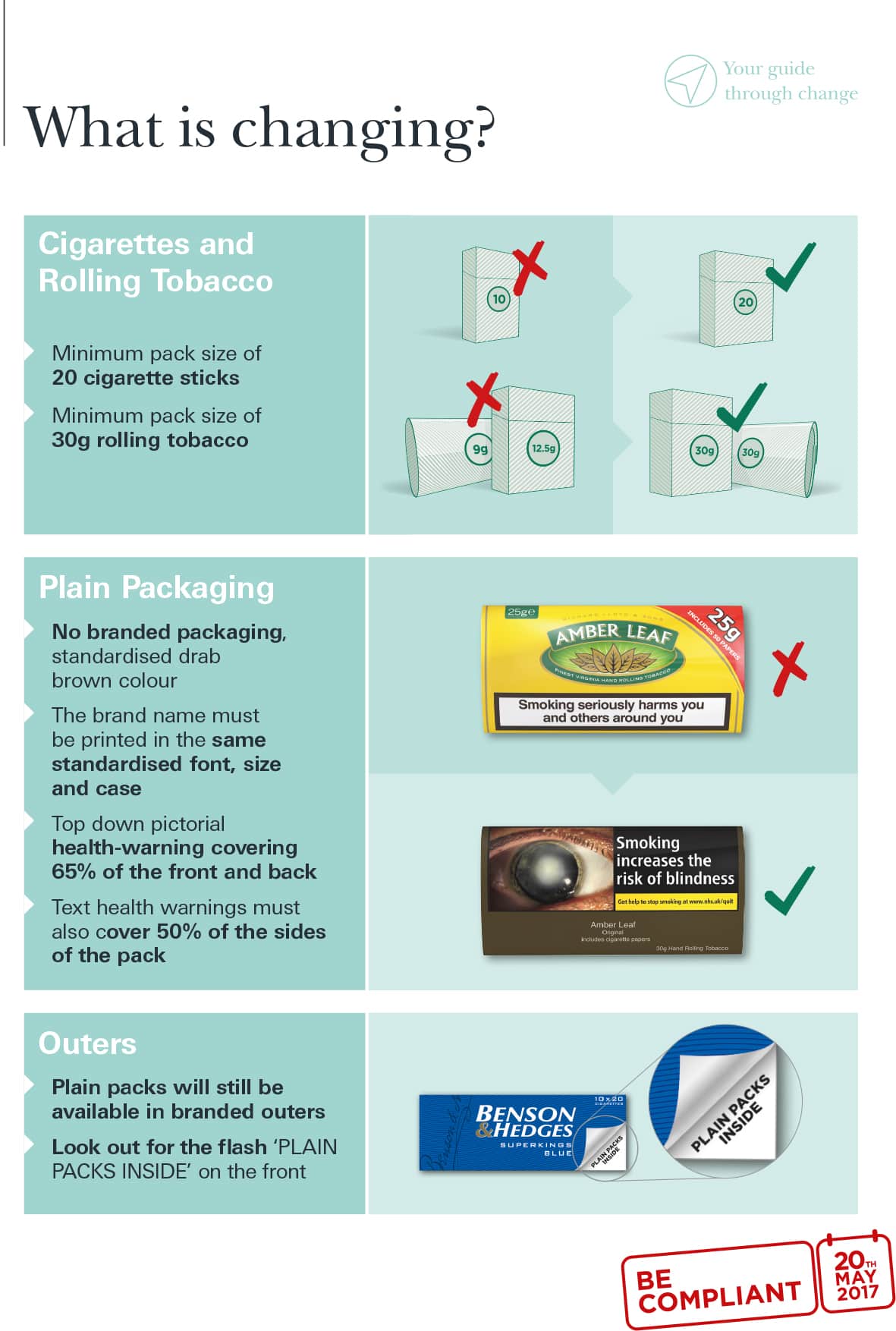 On May 20th, you will need to remove from sale any remaining stock of products that do not comply with the Tobacco Products Directive.
Please see the link below to some simple guidelines:
http://www.uniteduk.co.uk/wp-content/uploads/2017/05/Cig-Tobb-TPD2-Comms-Part-3-v10.pdf
(New EU laws on how tobacco products are manufactured, produced and sold have come into force.
Known as the Tobacco Products Directive, the new legislation will see a range of tobacco products banned from sale, including packs of 10s, 19s, 18 1/2s, flavoured cigarettes (except menthol) and non-standard style packaging.New regulations covering e-cigarettes will also be included.)
Although the law came into force from May 2016, there will be a transitional period until May 2017 to allow retailers to sell old products.
Retailers who continue to sell these prohibited items after May 2017 will face fines or criminal prosecution.
In addition to the new EU rules, the UK government passed plain packaging legislation which will come into force from May 2017.
Standardised packaging of tobacco products refers to measures that may be taken to restrict or end the use of logos, colours, brand images or promotional information on packaging other than brand names and product names that are displayed in a standard colour and typeface.
To help members prepare for the changes, the NFRN has put together provide members with the information and advice they need to comply with the new laws.
What the new laws means:
Current information on tar, nicotine and carbon monoxide yields replaced with an information message covering 50% of the side of the pack
Ban on characterising flavours (menthol ban comes into force in May 2020)
Prescribing minimum pack sizes of 20 ready-made cigarettes (RMC) and 30g roll your own (RYO)
Standardised pack design, including; shape, size, material and opening mechanisms
Tobacco Products Directive timeline
May 20th 2017
Sell Through Deadline – the following items will be banned from sale:

Tobacco with standardised packaging
Roll-your-own tobacco must have a minimum weight of 30grams
Cigarette packs with a minimum of 20 cigarettes
Tobacco Packaging must have 65% of the front and of the back must be covered with health warnings
Unflavoured cigarettes and Roll-your-own tobacco
E-cigarettes which feature health warnings
E-cigarettes with a maximum of 20mg/ml of nicotine (unless licensed as medicinal products)
E-cigarette refills with a maximum size of 10mg/ml
Disposable e-cigarettes, cartridges and tanks with a maximum size of 2ml

May 20th  2019
Manufacturers application of 'track and trace' system and security features to cigarettes and RYO tobacco
May 20th  2020
Menthol Ban – ban on Menthol ready-made cigarettes
May 20th  2024
Track and trace systems applied to all other tobacco products
Where the new legislation comes from and why:
UK Standardised Packaging of
Tobacco Regulation
Tobacco Products Directive
Aims
The Standardised Packaging Regulations introduce new restrictions and regulations to alter the material, size, shape and opening mechanisms of tobacco packaging.

Alterations to the colour of tobacco packaging, as well as the font, size and positioning of text.

The Tobacco Products Directive (2014/40/EU) aims to improve the functioning of the internal market for tobacco and related products.
Details of changes
Requires all tobacco packaging to be a standard dull brown colour with a matt finish

Bans the sale of price marked tobacco packs

Standardised markings such as health care warnings and fiscal marks are increased in size and remain on all packaging

Permits only specified text and size (brand name and variety name) in Helvetica font

Requires a combined picture and text health warnings which cover 65% of the front and back of cigarette and roll-your-own tobacco packaging.

Prohibits certain promotional and misleading descriptors on the packaging of tobacco products, such the words: "life", "natural" and "organic".

Requires that all cigarettes sold in packs of a minimum of 20 sticks and Hand Rolling Tobacco in a minimum of 30 grams packs.

Requires e-cigarette packaging to feature a health warning
Requires e-cigarettes with more than 20mg/ml of nicotine to be licensed as medicines, or they are banned.

Requires disposable e-cigarettes, cartridges and tanks to have a maximum size of 2ml
Retailers are still required under the Tobacco Display Ban to cover tobacco packs.
Failing to meet the retailer guidelines for selling e-cigarettes and tobacco products may result in a three month custodial sentence, a fine, or both, following a summary conviction.
https://uniteduk.co.uk/wp-content/uploads/2017/05/Cig-Tobb-TPD2-Comms-Part-3-v10-2.jpg
1754
1181
media
https://uniteduk.co.uk/wp-content/uploads/2020/04/UWS-2020-logo_Best-Cash-and-Carry.png
media
2017-05-18 09:20:52
2017-05-18 09:20:52
IMPORTANT: Tobacco Products Directive guide